(INDIANAPOLIS, IN.) – October 18, 2018: the Public Interest Legal Foundation (PILF) today alerted local, state, and federal law enforcement to campaign mailers directed at noncitizens in south Texas which encouraged voter registration via altered forms indicating they were U.S. citizens.
Texas Democrat Party mailers circulated around the Rio Grande Valley region of south Texas landed in the hands of lawfully present noncitizens in late September and early October. The envelopes contained voter registration applications where the answers to questions "Are you a United States Citizen?" and "Will you be 18 years of age on or before election day?" were pre-printed "Yes" for each.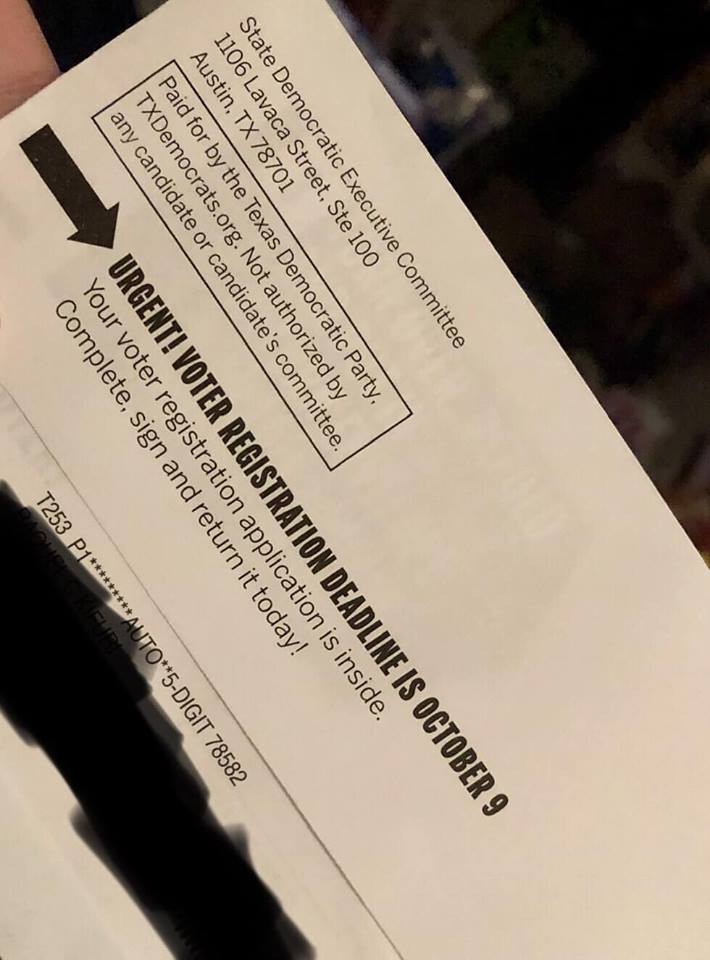 "Noncitizens usually register to vote at the prompting of another party—usually a DMV clerk," PILF President and General Counsel J. Christian Adams said. "Today, we are raising awareness to how the Texas Democrat Party—unintentionally or otherwise—is offering voter registration to noncitizens. Without some form of official intervention, confused noncitizens rather than the Texas Dems will end up paying the consequences of this matter."
The letters from PILF went to district attorneys in the region, in addition to Texas and federal officers, explains why pre-printing answers about eligibility are problematic:
[W]hen Congress passed the NVRA, it envisioned a registrant making two separate affirmations of citizenship – both the checkbox as well as the signature attestation. This enables prosecutors to easier establish intent and state of mind when noncitizens illegally register to vote.
The Foundation urges the recipients of the referral to "investigate if and how many returned applications arrived in your local county elections office(s) … The Foundation yields to your office in addition to the state and local election officials on how best to protect ineligible registrants from casting ballots during the 2018 Election."
Attached with the Foundation's referral is an affidavit from a former employee of the 229th Judicial District Attorney, David. C. Kifuri, Jr., who initially came forward with the documents in question.
Digital versions of the referral letter and Kifuri affidavit are linked here.
Public Interest Legal Foundation (PILF) is a 501(c)(3) public interest law firm dedicated to election integrity. The Foundation exists to assist states and others to aid the cause of election integrity and fight against lawlessness in American elections. Drawing on numerous experts in the field, PILF seeks to protect the right to vote and preserve the Constitutional framework of American elections.
###