County Rule Ensures an Influx of Overvotes in 2020 Election
(PHOENIX, AZ.) – September 4, 2020: The Public Interest Legal Foundation (PILF) filed an amicus brief in a lawsuit seeking to prevent County Recorder Adrian Fontes from instructing early voters to correct mistakes on their ballot by simply crossing out their first choice, rather than obtain a replacement. This spoils the ballot under state law. The new cross-out instruction was given in the August primary, despite a specific state procedure barring the practice (AZ Public Integrity Alliance v. Fontes).
The Arizona State Elections Procedure Manual warns that "no votes will be counted for a particular office if they overvote." If a voter makes a mistake on a ballot, they are required to "request a new ballot" to correct the mistake. Ahead of the 2020 Elections, Maricopa County is unilaterally instructing local voters to cross-out mistakes and re-select their preference on the same ballot—thereby creating overvotes.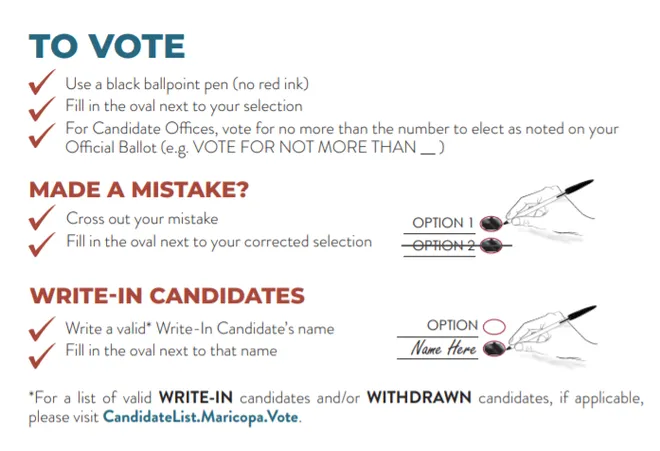 The Foundation's brief outlines how Maricopa County's actions run directly in opposition to established Arizona law and, if left unchecked, "would infuse chaos into the election and potentially disenfranchise voters."
"Maricopa County officials are effectively instructing voters to spoil ballots after making a marking mistake. Remember the inspectors with magnifying glasses 20 years ago in Florida? Maricopa County is inviting that experience again in the middle of a pandemic," PILF President and General Counsel J. Christian Adams said. "Maricopa County should not be allowed to make its own election rules and procedures—especially when they are contrary to Arizona law."
The Foundation's brief focuses on two primary arguments.
Maricopa's cross-out instruction is out of line with the Arizona Election Procedures Manual and runs contrary to state law. The manual is clear: "inform voters that no votes will be counted for a particular office if they overvote (vote for more than candidates than permitted) and therefore the voter should contact the County Recorder to request a new ballot in the event of an overvote.
Defendants arguments to justify the unilateral change lack merit. Having different sets of instructions across counties and even periods of voting creates confusion and can lead to disenfranchisement.
Read the full brief here.
The Public Interest Legal Foundation is leading the nation in enforcing election integrity laws and the National Voter Registration Act, having brought cases in North Carolina, Pennsylvania, Michigan, Maryland, Florida, Mississippi, Texas, and Maine and filed amicus briefs in litigation across the nation.
The litigation continues in the Superior Court of Arizona – Maricopa County. The case number is LC2020-000252. Counsel for the Public Interest Legal Foundation is Sue Becker.
Public Interest Legal Foundation (PILF) is a 501(c)(3) public interest law firm dedicated to election integrity. The Foundation exists to assist states and others to aid the cause of election integrity and fight against lawlessness in American elections. Drawing on numerous experts in the field, PILF seeks to protect the right to vote and preserve the Constitutional framework of American elections.
###