Statewide Trump/Biden Vote Difference Was 33K
(LAS VEGAS, NV.) – March 10, 2021: The Public Interest Legal Foundation (PILF) today released a research brief detailing mail balloting return figures for Clark County, Nevada, during the 2020 General Election.
Clark County 2020 General Election data show that 92,367 mail ballots were returned undeliverable to wrong or outdated addresses, according to records disclosed to PILF. For a sense of scale, Former Vice President Joe Biden carried the whole of Nevada with a final lead of 33,596 votes.
Previous PILF reports showed that Clark County transmitted more than 223,000 mail ballots to wrong or outdated addresses during the spring primaries. A legislative change limited mass-mail balloting to only "active" registered voters for the fall elections.
| | | |
| --- | --- | --- |
| Totals | 2020G | 2020P |
| Total Mail Ballots Transmitted | 1,277,897 | 1,325,934 |
| USPS Undeliverable | 92,367 | 223,469 |
| Active Undeliverables | 92,367 | 93,585 |
| Inactive Undeliverables | — | 129,884 |
"Mass-mail balloting is a step backward for American elections," PILF President and General Counsel Christian Adams said. "There are millions of voter registration records with unreliable 'active' address information that will ultimately send ballots to the wrong place in a mail election. H.R. 1 does more harm than good for the American people and will leave them at a constant disadvantage to correct election system errors which ultimately impact their abilities to vote in a timely manner."
Access the full research brief, here.
The Public Interest Legal Foundation won the only injunction against a state in 2020 in stopping the acceptance of late ballots without postmarks. PILF is leading the nation in enforcing election integrity laws and the National Voter Registration Act, having brought cases in North Carolina, Pennsylvania, Michigan, Maryland, Florida, Mississippi, Texas, and Maine and filed amicus briefs in litigation across the nation.
Public Interest Legal Foundation (PILF) is a 501(c)(3) public interest law firm dedicated to election integrity. The Foundation exists to assist states and others to aid the cause of election integrity and fight against lawlessness in American elections. Drawing on numerous experts in the field, PILF seeks to protect the right to vote and preserve the Constitutional framework of American elections.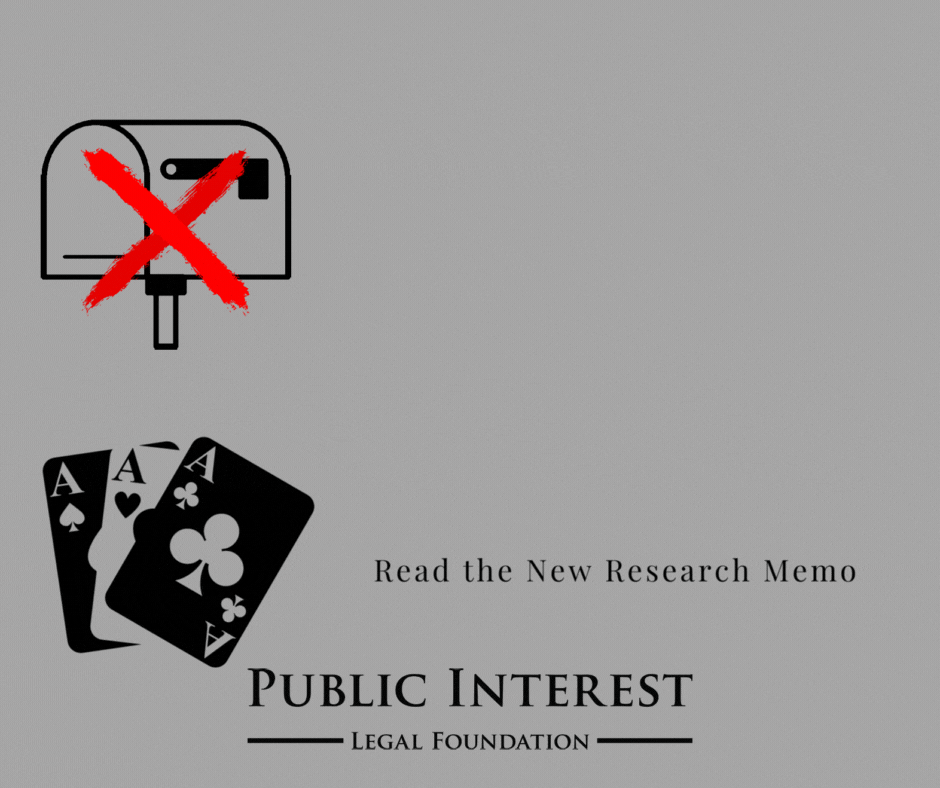 ###