New Jersey's voter rolls contain thousands of registrants who are 105 years or older.
 (Alexandria, VA.) – June 6, 2022: Today, the Public Interest Legal Foundation (PILF) released a research brief detailing the tens of thousands of errors in New Jersey's voter rolls. These errors must be fixed before the 2022 elections.
 The Foundation's analysis of the voter roll found that 8,239 New Jersey residents managed to become registered twice or more under variations of their names. There were individuals registered three, four, five, and even six times.
Additionally, the state's voter rolls have 2,398 registrants who appear to be aged 105 years or older. The average life expectancy in New Jersey is 80.7 years. Given that data, these thousands of registrants aged well beyond 100 years deserve closer examination.
One startling example is Patrick DePaola of Bayonne. He was born, according to the voter roll, on July 28, 1905. He worked for 50 years as a printer for The New York Times.

He died at the age of 105 on December 9, 2010. In 2022, he was still showing as an active registered voter in New Jersey. Below is his obituary.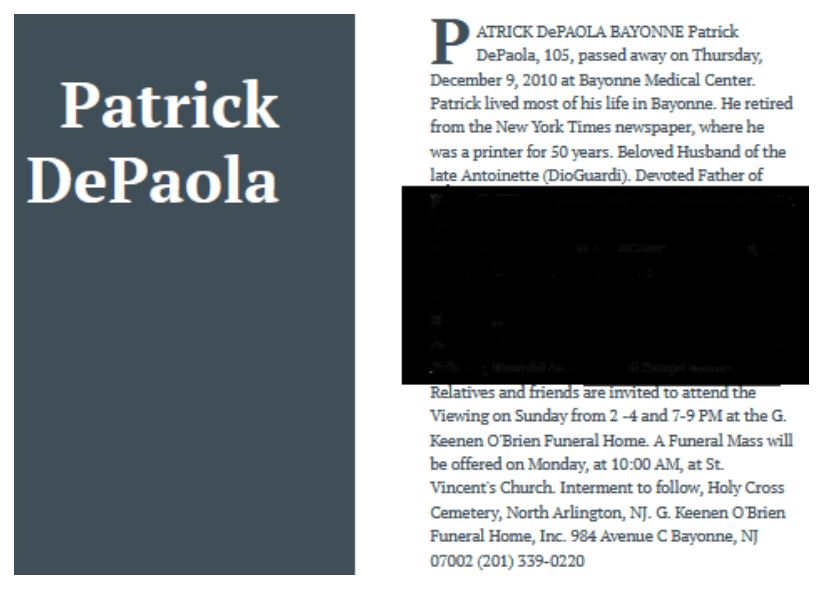 The analysis also revealed that 33,572 registration records contain placeholder or fictitious dates of birth. There was even a registrant whose birth year was listed as 956, stretching back all the way to the time of the Byzantine Empire. There are even registrants who are listed as being born in the future in 2028 and 2029.
"New Jersey has some explaining to do in how it collects and maintains basic voter information," said PILF President J. Christian Adams. "As we have already demonstrated, PILF will pursue available remedies to correct often long neglected government records."
Access the full research brief here. 
###